With angular sloping roofs, fluted side panels and geometric cutouts on their walls, Chirp Birdhouses are modern dwellings designed for native bird species in New England.The business was launched last summer by 10-year-old Mina Yadollahpour of Weymouth and her father, architect Nima Yadollahpour, owner of the Boston design firm ONY Architecture.
The duo had been talking about building birdhouses together ever since Mina discovered a robin's nest in their backyard when she was just 8 years old. When the pandemic hit and their family found themselves spending all of their time at home, it seemed like the perfect opportunity to set their plans in motion. While Mina got to work researching the different types of birds known to live on the East Coast, her father began sketching plans and sourcing materials. Their goal was to design birdhouse kits that parents or grandparents could easily build together with their children.
There are currently nine contemporary birdhouses in the Chirp Birdhouse collection. Each model is named after a famous architect and designed to suit the needs of specific native bird species. Made from marine-grade teak plywood and featuring a minimalist, timeless design, the birdhouses are both aesthetically pleasing and functional for feathered friends. Designed and built in the family's home woodshop, the birdhouses can be purchased as a kit or fully assembled. A portion of birdhouse sales is donated to charities that protect endangered animals.
"For me, the joy of this experience has been working together with my daughter," says  Yadollahpour. "I hope that we help cultivate that same kind of experience for other families."
For more information, visit chirpbirdhouses.com.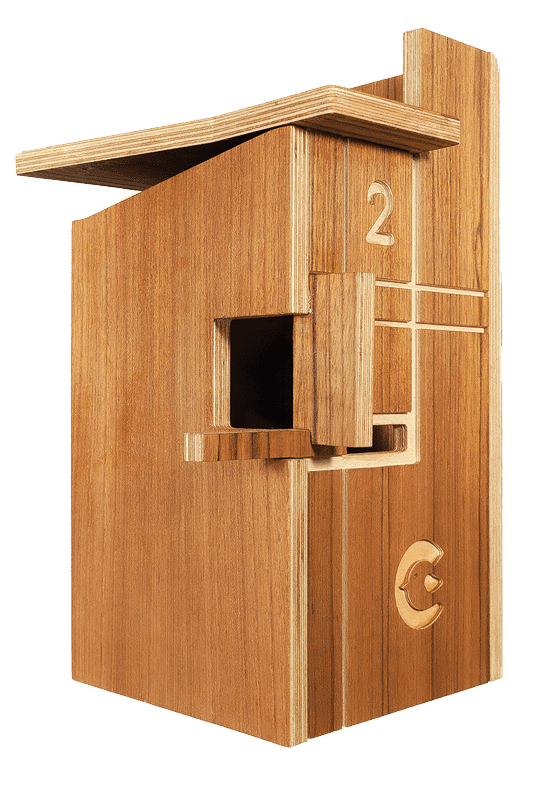 Chirp No. 2 - CORBU: 
Named after Swiss-French architect Le Corbusier.
Best For: Bluebird, house finch, tree swallow
Chirp No. 8 - PIANO:
Named after world-renowned Italian architect Renzo Piano.
Best For: Great crested flycatcher, red-headed woodpecker, saw-whet owl
Chirp No. 9 - SCARPA:
Named after the mid-century Italian architect Carlo Scarpa.
Best For: White-breasted nuthatch, titmouse, wren
Chirp No. 7 - ZAHA:
Named after Zaha Hadid, the first female architect to receive the coveted Pritzker Architecture Prize.
Best For: American Robin, Barn Swallow, Eastern Phoebe